If you are about to visit Skopelos this summer or even if you are already there and you are wandering which are the beaches you must visit here is our Top 5. Keep in mind that Skopelos is the greenest island of Aegean sea and has many beaches all worth seeing and swim in their crystal clear waters.
Accommodation: Hotels and rooms to let in Skopelos.
1. Kastani
Kastani beach is most known from the film "Mama Mia". It is located right next to Milia beach 21 kilometers from town Skopelos. These two beaches (Milia and Kastani) are conected by a small path which goes up the rocks that visualy seperates the two beaches. Before you reach the beach there is a free parking lot. On the beach there is a beach bar that you can have coffee and beverages, it also rents sunbeds and umbrellas. If you don't want to rent an umbrella from the beach bar you must have one with you beacause in Kastani you can find a shadowy place on the beach only at morning hours. We choose Kastani as our first suggestion because of it's perfect natural scenery with the crystal clear waters in combination with the modern facilities create a unique beach for relaxation of the body and mind.
2. Stafilos
Stafilos is the closest beach to town Skopelos only 4 kilometers away. Stafilos is a long and sandy beach. Right before you go down the stairs that will take you to the beach on your left hand there is a tavern and if you get firsty the beach also has a beach bar that rents sunbeds and umbrellas. There is no parking near the beach and the bus stops 500 meters away from the shore.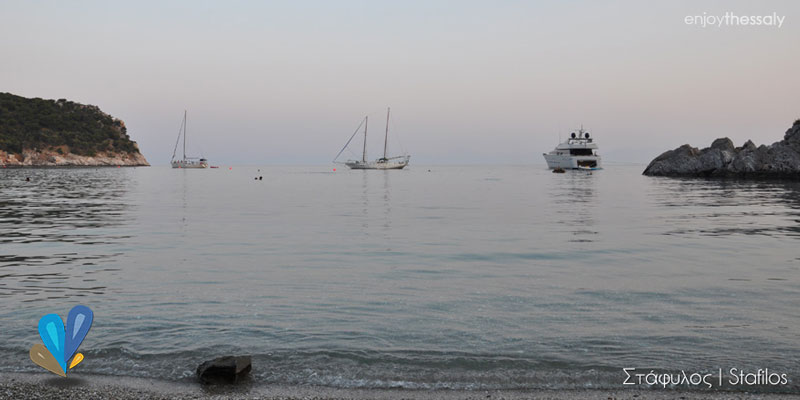 3.  Velanio
Velanio is bigger than the two previous beaches and its main characteristic is the tranquility of the natural landscape. I f you want to reach Velanio beach you have to go eather by boat or you mast cross Stafilos beach and go up the small path at the end of the beach. The beach will reward your visit with it's beauty. One more thing you must know about Velanio is that it's the only official nudists beach in Skopelos.
4. Milia
For many this is the best beach on the island of Skopelos. A long shingle and sandy beach and really clear waters. The beach is surrounded by the green color of pine trees that reach right on the beach. Before you enter the beach there is a canteen with beverages and food, also there is a beach bar. If you are fan of water spors here you can rent and do some of them. You can reach Milia beach with your own car or motorcycle, before the beach there is a free parking lot, and by bus. Keep in mind that the bus will leave with 10 minutes away from Milia beach and you will have to walk that distance.
5. Panormos
Is the perfect beach for people who like to have everything around them. A natural bay with great beauty. Here you can find many taverns rooms to let and Hotels to stay, beach bars and mini markets. Panormos bay is the ideal beach for families. You can also visit Panormos in the evening to have dinner by the sea. Reaching Panormos beach is easy and the bus stops right next to the beach.