Titanospilia ravine is located after Kofous at Mount Othrys in Magnesia Prefecture. Its total depth is 81 meters and it has two sections. The first and one-way downhill is at 45 meters and while the first 10 are made in a 2X2 duct then the scenery changes and a majestic chamber in the shape of a dome of impressive dimensions is revealed. The cave explorer is at the center of this dome. At the bottom there are several kites and boulders, many of which have covered calcareous material creating beautiful and whitewashed decoration. Somewhere in the walls we have a small pond, and between the bones there is a human skull.
Then the ravine continues to a different pattern. The 35 meter downhill that follows is in a narrow swing. At the bottom and after getting out of the rope there is a small hole at the other end. Walking down carefully, we find ourselves in the lower chambers of Titanospilia. Narrow, with intense drowning, crooks, scallops on the walls and no decoration.
The descent was made on 30/04/2017 by the members of Proteas and Chironas.
Text and images taken from http://canyoning-caving.blogspot.gr Creative Commons CC by 3.0
Εισοδος
μικρή λίμνη με σταγονοροή και όμορφο διάκοσμο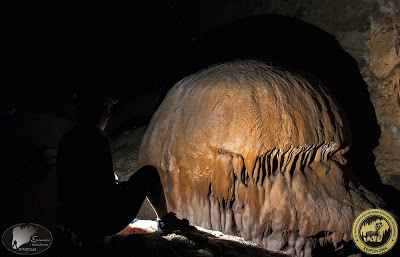 η είσοδος για τη 2η κατάβαση