The stone bridge of Chatzipetros is located south of Neraidochori village. To visit the famous stone bridge you must follow the road from the main square towards the river. The route after the last houses of the village is a well-paved road for only a while before you leave your car on the bridge you'll find after several minutes. After you park your car you must walk the stone path and then follow the path next to the old mill and finally you will continue to the riverside road. This is a total distance of about 10 minutes walking. You will also see red arrows painted with spray on stones that mark the path you must take.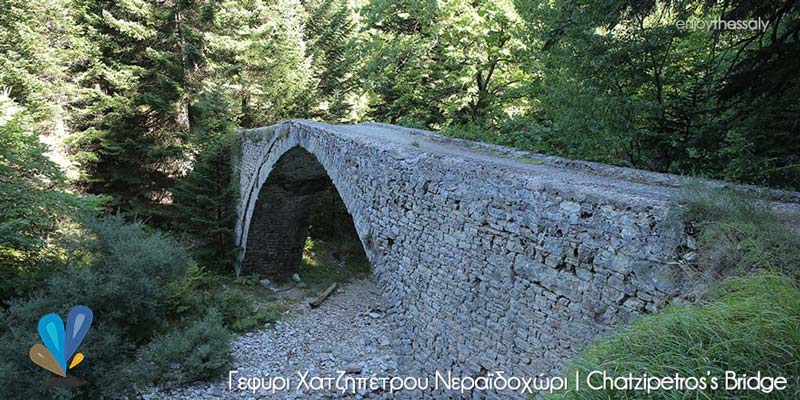 Financier of the bridge was the chief shepherd George Chatzipetros and bridges the Pertouliotis river. It's an arch bridge with total length of 30.5 meters, about 8 meters height, 14.3 meters opening arc and the left pedestral is built over a rock. Construction materials are sandstone and carved stones. The bridge probably built in 18th century, around 1750.
The bridge was a passage through the villages of Aspropotamos to Trikala plain since after the bridge follow the Vlachostrata, an old stone path that is in a good condition until today and was the passage for people and domestic animals that traveled from Thessaly to Epirus.
If you follow the stone path Vlachostrata after one hour you will find the tap Ftelia or tap Suleiman. The area of ​​the bridge is a pleasant visit for those that stay in Neraidochori, Pertouli and the surrounding villages. A beautiful route to travel in winter and summer.
Nearby destinations: Pertouli, Elati, Aspropotamos villages, Stone bridge of Palaiokarya.