Beaches near Chora – Skopelos Town
Agnontas: it is also used as a port for small boats and has very little space left for the swimmers. It has small pebbles, crystal clear waters and mulberry trees used as shade.
Velanio: after crossing the beach of Stafylos, you will climb a small footpath and soon you'll see the Velanio beach, which is very often windy. The beach is divided in two, naturally, by a big rock in its middle. Behind the rock is a nudist beach. Velanio is an official nude beach.
Stafilos: is one of the most beautiful organized beaches near Chora, with beach bars, water sport facilities, crystal clear waters and small pebbles.
Glysteri: a small beach with large pebbles. It's worth seeing the cave of tripiti on the rock, access by boat.
Limnonari: a beach with sand and very small pebbles.
Glyfoneri: is mainly a local beach close to Chora.
Agnontas beach | image FlickrCC YorickR
Milia: a beach with small pebbles, lots of pine trees and characteristic rocks in the sea with the heavenly crystal blue waters. It's also famous for its stunning sunsets, as the sun goes down among the rocks and the little island Dasia.
Hovolo: a sandy beach with crystal clear waters.
Kastani: a little beach after Milia, with pine trees reaching the sea and small pebbles. This beach is well known as the movie "Mamma mia" was filmed there.
Armenopetra: an isolated beach for few, for swimming overlooking Glossa's port, with small rubble and stones. Getting there is difficult as you reach the beach through a country road.
Elios: a beach with several restaurants and small pebbles. Next to it is the beach Hovolo which has white sand emerald waters. You can access Hovolo either through the water or by foot, walking from the beach Elios.
Panormos: one of the most famous organized beaches with umbrelas and sunbeds, white pebbles and quite deep blue waters upon entering. It's a beach resort consisting of tavernas, accommodation and two mini markets.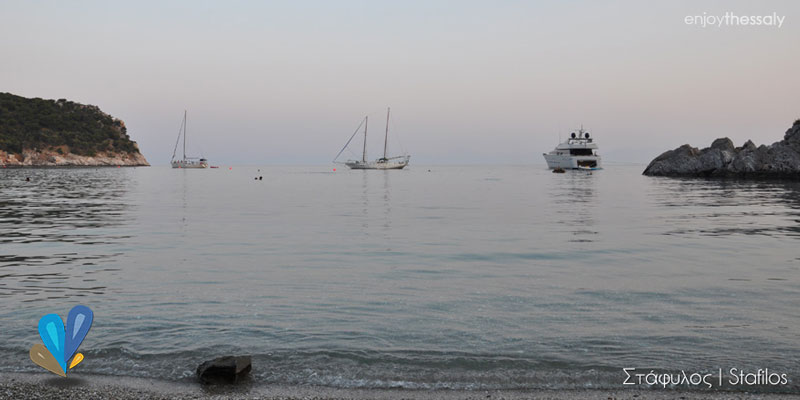 Loutraki
Agios Ioannis
Spilia
Perivoliou-Pethameni-Hondrogiorgis
Beaches accesible by boat are Sarres, Ftelia, Megalo Pefko, Ekatopenintari and Mavraki.
Read also Top 5 Skopelos beaches