Porta Panagia church is built opposite of village Pili in MT Koziakas in the prefecture of Trikala and crossing the bridge inside the old settlement of Porta Panagia. It is one of the most important religious and Vyzantine sites. Founded in 1283 by Ioannis Aggelos Komninos Doukas, son of Michael II Doukas, who was despot of Epirus. The church of Porta Panagia is one of the main sights before you head to the beautiful villages of Mt Koziakas.
The Church of Porta Panagia consists of the nave characterized as basilica and inside are preserved frescoes of the 18th century. Features both psifidota at the entrance of the shrine gate with Virgin right and left Christ unlike all other churches and traditions of Christianity.
The exterior walls of the church are up to a height of 2 meters and are made of large limestone. The windows are surrounded by arched frames that reach their apron. Even apart from the main temple is the outer narthex which was built at the end of the 14th century and is shaped cruciform church with a dome.
Most of the sculptural decoration and mosaic was destroyed during the fire of 1855.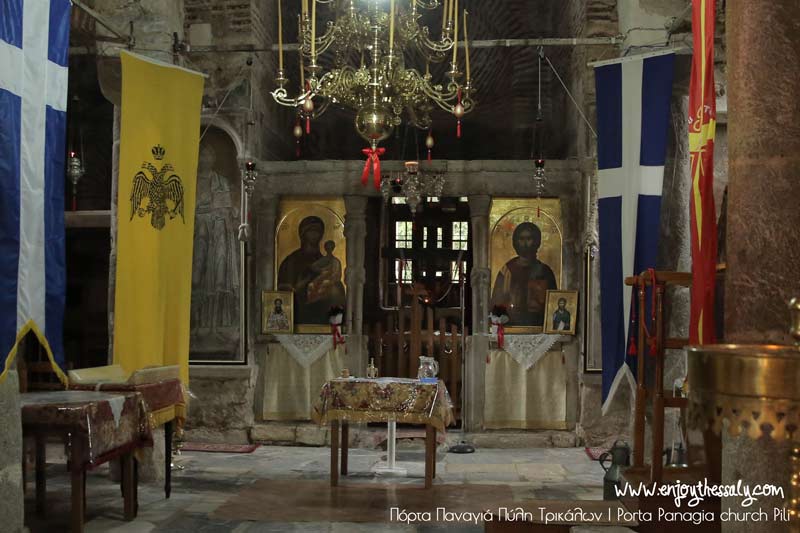 Close to the church you will find the stone bridge of Pyli where many visitors decide to stop to walk onto the bridge. Also close to the church there is the Monastery of Vissarionas.