Skiathos airport is called the Sint Maarten (or Saint Martin) of Greece and Europe. Because of it's design airplanes are forced to gly extremely low when they are landing. People are gathering behind the landing runway to feel that unique experience of a Boeing 757 flying just above their head.
Planespotting is a special hobby and Skiathos airport is an economic solution for foreign visitors (especialy European residents) and planespotting fans from all over the world who want to
feel the " Sint Maarten feeling".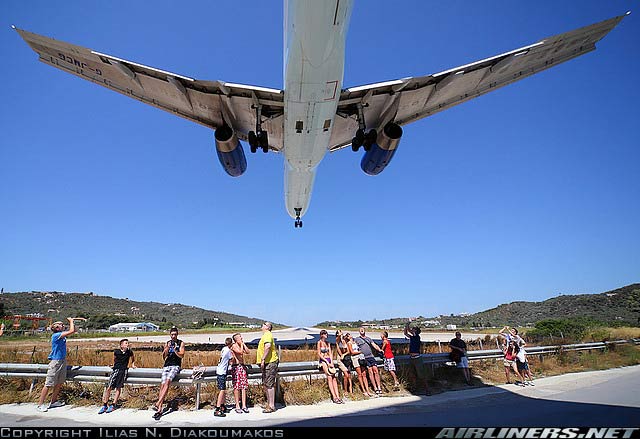 Skiathos's airport is located next to the beach and fans of airplanes are waiting to immortalize airplanes from various angles. The runaway is short in length and narrow. It has dimenstions 1.28×30 meters and you can watch from chapter flights to an Boeing 757 aircraft. Keep in mind the busiest day is on Friday!(2015)
Visit Skiathos and do not forget to wait for a flight to pass a few meters above you. Required accessories for the summer while waiting  are sunscreen, hat and sunglasses. Take your camera or camcorder and happy shooting!
Images by Diakoumakos Ilias