The Pertouli village is located at an altitude of 1,200 meters, 46 km west of Trikala. It is one of the most beautiful and popular mountainous and tourist centers of the Trikala County, along with Elati village, attracting many visitors. Before we meet Pertouli village we find the Pertouliotika Prairies where every year is being revived "the way of cohabitation of Sarakatsanaioi" which is located within the area across the ski resort. A few minutes later we meet the camping site in the church of Agia Kyriaki, where you have the opportunity to camp or park your caravan.
Pertouli ski center is located before Pertouli village and consists of three ski runs 1,500 m, 400m and an educational 80m and three lifts. There is also a two-seater chair lift of 1170 meters length a lift of 350 m. length and a baby lift of 60 m. length. A path starts from the ski resort and leads to the shelter of Chatzipetros at the top of Koziakas with the starting point of the path to be across the church of the Holy Apostoles. Other activities include horseback riding, archery and hiking a few meters below the ski center.
The Pertouli village constitutes one of the top winter destinations and, because of this, the village is full of guests, all year long. All those who want to escape from the city noise; they visit the village for relaxation and tranquility moments in a family and hospitable environment. As in the surrounding villages, so in Pertouli, there are carefully designed guesthouses made of stone for your stay.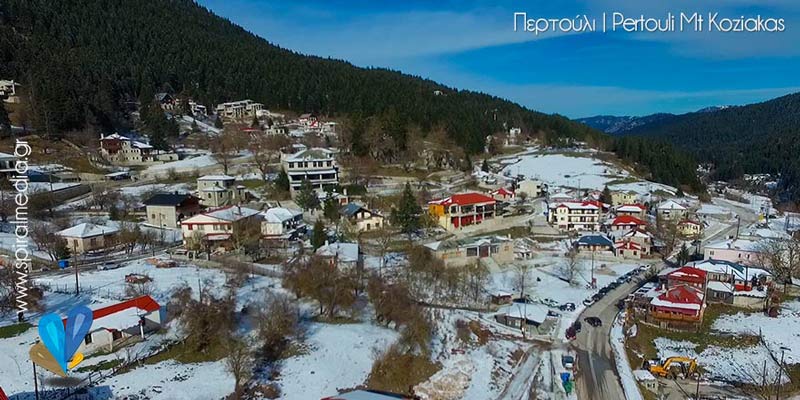 Cafeterias overlooking the beautiful and dense forest and taverns with delicious local meat are located on the main and the surrounding streets of the village. Make sure to try pies made with homemade foil and pure ingredients from the female Cooperative, to buy products such as oregano, tea and herbs and to taste lamb in a pot, wild boar and roe deer.
Nearby destinations: Elati, Neraidochori,  villages of Mt Koziakas
Nearby sights: Palaiokaria bridge, Chatzipetros bridge, Aghia Paraskevi church.