Between the high mountains of Marosa and Neraida at Trikala prefecture is Neraidochori at an altitude of 1137 meters on Mount Koziakas. The past name of the village was Veternik and is located just 4 km after we meet Pertouli.
From Neraidochori originated the hero of the Greek Revolution Christodoulos Xatzipetros. It has about 330 residents and winter-summer this number multiplied filling the accommodation provided by the village. In winter the chimneys of fireplaces burning all day in the snow-white landscape of snow covered the whole village and create a magnificent landscape to the magic of winter.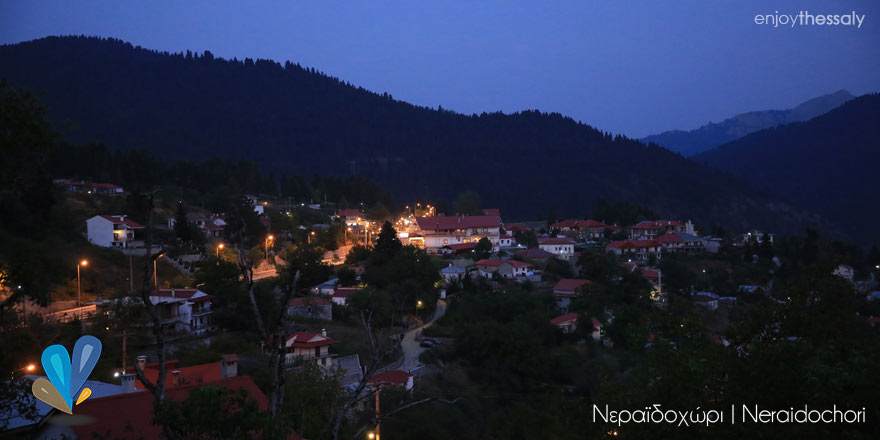 Hotels and guesthouses in Neraidochori

Hotels with many facilities, rooms and traditional, folk houses with wood, stone fireplace with cozy surroundings, cheap prices and a view to the mountain of Marosas giving you a memorable stay. On the main street you will find two hotels, the rest of them you will find as you go down to the village square. See here the accommodation in Neraidochori and surrounding villages. Neraidochori an option many visitors who want to experience the surroundings.
Delicious food is waiting you in the village taverns including traditional dishes, grilled skewer, lamb in a pot and hunting in the area. Two restaurants can be found on the main road, the rest are in the village square you will find if you go down the road. Also in the square is the church of Saint Nicholas built from 1764. Also worth seeing the church of Agia Paraskevi (1792) situated after the village heading towards the village of Pyrra and views Tziouka area.
Going downhill even further from the square to the river Aspropotamos and to the forest road in Smixi area, the stone bridge Chatzipetrou of 1750 to 14.3 meters opening, about 8 meters high and 30 meters long, from where starts and stone path the famous " Vlachostrata" a beautiful hiking route. The area of the bridge is one of the places that many visitors choose to explore the dense fir Koziakas.
Also, Pertouli Ski Center is located at 9km from Neraidochori. Pertouli Ski Center is the starting point of a beautiful hiking route to Koziakas Shelter Chatzipetros.
tips
The altitude is so large so you will need both in winter and summer your long sleeved shirts and jackets.
Meat in the village restaurants is delicious and if you want you can buy meat home from the tavern at the village entrance.
Visit Neraidochori on July 26 to celebrate the Holy Friday evening in the village square is the festival with dancing, food and live music.