The village of Milina is among the best options in Pelion for your summer vacations. It's a seaside village in South Pelion overlooking Pagasetic Gulf; it is very vibrant especially during summer. Despite advanced tourist development (restaurants, cafes, shops, campings, rentals etc.) it has not been spoiled and maintains its scenic and traditional character.
The origin of the name is Slavic, from the word "mln" which means windmill. The village has a long history with medieval findings but mostly great naval history as great fishermen, shipbuilders and ship owners were born here. In fact up till 1948, Milina belonged to the neighboring village of Lafkos located at a distance of 7km.
Throughout the coastline of Milina there are scenic coves and fabulous beaches. In the village's natural harbor, Valtoudi lays the traditional settlement of Agios Andreas (St. Andrew). There you will discover ruins of the ancient city Olizon, which belonged to the kingdom of Philocretes, who, according to Homer, took part in the Trojan War by sending ships and archers. Across Milina, there are two small islands, Alatas and Prasouda. On Alatas is the magnificent monastery of Agioi Saranta while in Prasouda the Byzantine monastery of Zoodochou Pigis (Life-Giving Spring). Other seaside scenic settlements are the Mauri Petra (Black Stone), Marathias and the bay of Tzasteni.
If you find yourself in the village it is worth visiting the small church of Agios Athanassios and the church of Agia Marina, which allegedly was the sacred of nymph Thetis.
During summer months, you can fish, swim or master a water sport at one of the beautiful sandy beaches. After your activities, you can enjoy fresh fish at an ouzeri (tavern) that exist on the beach or enjoy a coffee by the sea.
If you're a sailing fan and have a sailing license, you can rent a boat and travel to Pagasetic or to the islands of Sporades and Evia. However if you visit the village during winter you can always enjoy hiking, biking, or skiing at the ski center.
If you're fortuned to be in Milina during August you will have the chance of attending to the "Night Of Milina", a cultural event held every year and includes theatrical performances and folk music concerts.
Whatever you choose to do, do not leave the village without enjoying the magnificent sunset from the coast, regarded as one of the most beautiful in Greece.
Hotels in Milina – Accommodation In Milina Pelion
Book now at the available hotels in Milina.


Nearby beaches: Chorto, Koukouleika, Tzasteni
Nearby villages: Chorto, Lafkos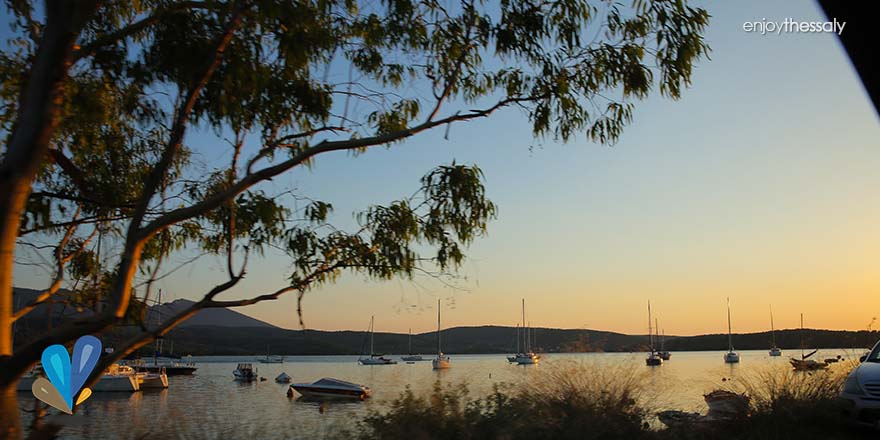 Text source discoverpelio.com