Makrinitsa is a traditional village built on the west side of the Pelion peninsula. It is characteristic for its green landscape, the mansions, the old tannery, the churches of the 17th and 18th century, the three-story towers, the old arched bridges and squares. It forms the most popular destinations of western Pelion with village Portaria. Evenly houses on the slopes of the mountain of the Centaurs, with the characteristic pelion architecture and roofs of stone which from their balconies offer a panoramic view to Pagasitikos Gulf and Volos Town.
Hotels and Guesthouses in Makrinitsa
Many houses have been restored and converted into various uses spaces and other function as guesthouses. Click here and see all available hotels in Makrinitsa.
Great restored the Vatsarea – Mavraki mansion houses the Environmental Education Center as worth seeing the Topali mansion built in 1844 which houses the Museum of Folk Art and History of Pelion that inside there are old household appliances, jewelry, books, folk painting murals and Traditional costumes.
In the square of the village or else " Bazaar 'as it is called, you can enjoy your coffee and your food with endless views which alone offers. Also in the square is a marble fountain of 1809 "Lions" or "immortal water", three bronze lion heads from where the water gushes. Next to it is the church of St. John the Baptist (1792) which has wonderful reliefs of folk sculptor Theodosius.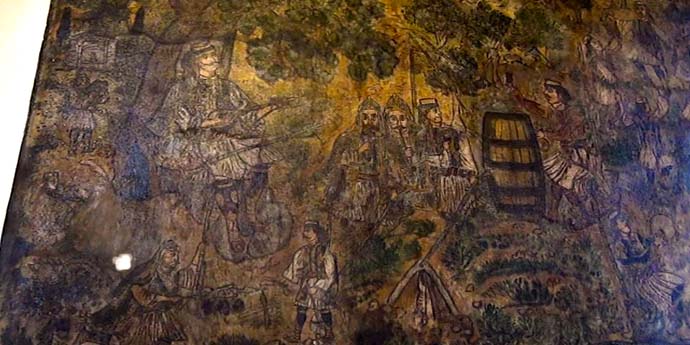 Walk at the paths of Makrinitsa's neighborhoods, a trail that you will never forget. In the district Trinity stands the tower of Axel built in the 17th-18th century which is restored in its original form. At the lower district which is Koukourava where are preserved the ruins of the old tanneries built in 1600 and Skoteinioti mansion. Also, the ski resort is just 14 km.
For your stay as mentioned above many mansions have been converted into guest houses with special decor and homemade breakfast that will make your stay memorable. Hotels, hostels, villas and deluxe suites await you all year round with all the features the visitor wants to excellent and welcoming environment.
As Vizitsa and Pinakates so Makrinitsa has been declared protected settlement absolute protection since 1980.
From the tourist shops you can buy traditional sweets, herbs, local wine and tsipouro.