The small and traditional village of Keramidi is build between the mountains Mavrovouni and Pelion and although not being as famous as other Pelion villages it is equally magical and picturesque. It harmonically combines mountain and sea as from the high village altitude, one can admire the magnificent view towards the Aegean Sea, the distant Halkidiki and go to the nearby beaches of Kamari and Aghios Ioannis. Both of them are located 5 kilometers away from Keramidi. Cars are restricted within the village so it is better to leave the car on the outskirts and walk through its charming cobbled paths.
Today Keramidi maintains its traditional Pelion character with its paths and stone build houses. The central square "Leontos Mela" or "Alonaki" as it was used to be called with its imposing plane trees and shops, is the center of the village's life. Very close is the church of Agios Georgios (St. George), a basilica built in 1787 with great view towards the Aegean. The church characteristics are the slab-covered roof and the stone build bell tower while nearby is a small but very interesting ecclesiastical museum.
The village's history is around 3 centuries old, while some historians believe it is greater. Founders were people from nearby villages, runaways and other farmers who under the pressure of the Ottomans decided to come to this remote place to be secure, since the dense forest provided perfect cover. Its name Keramidi (roof tile) derives from the tiles on the roofs of the first houses.
During the celebration of Agios Georgios on the 23rd of April a fair is organized in the village with traditional music, dances and lot of pligouri (a mixture of various meats with wheat) being offered to visitors, prepared at the church's exterior. Apart from Agios Georgios fair, other fairs take place in the village such as the 3day fair for celebrating the 9days after The Assumption of Virgin Mary on the 23-25 of August and various other celebrations in chapels around the village.
Upon leaving the village, in short distance, specifically in the hill of Ai Giannis settlement you will see the remains of an old castle-fortress dating from the Hellenistic or Macedonian period. This castle was the acropolis of the ancient town Kasthanaias that is assumed that existed there, and which Herodotus mentions as the place where Xerxes fleet was destroyed.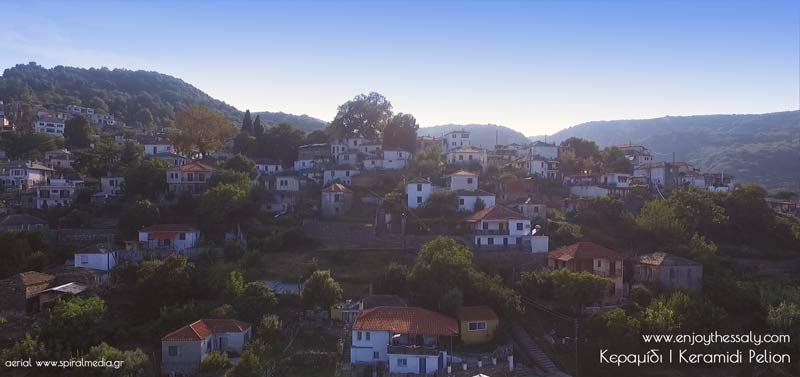 text by discoverpelio