Skiathos is the most popular destination in Sporades so you will find many hotels in Skiathos Town (Hora) and other parts of the island. Skiathos's town is where the port of Skiathos and the majority of the hotels of the island are located, taverns and restaurants, cafe bar, banks, super market etc. Every summer a large number of tourists from Greece and abroad choose to travel to Skiathos for their summer holidays, combining beautiful beaches, eating in the island's restaurants and enjoying the intense nightlife of Skiathos. So, as we mentioned above, the hotels in Skiathos Town are enough and you will have to choose between several hotels and rooms to let that are offered at good prices. Below are some options of hotels in Skiathos Town. Find out more about Skiathos. Book your ferry tickes to Skiathos. Download our map of Skiathos. Book now your rental car in Skiathos here
Hotels in Skiathos Town – Prices – where to stay in Skiathos
Bourtzi Boutique Hotel- Skiathos Town
Bourtzi Boutique Hotel is located in Skiathos Town (Chora), within walking distance of dining options and various shops and offers modern and comfortable rooms, wifi, air conditioning, toiletries and some rooms also have a seating area. Skiathos Airport is 2 km away.
Check availability and rates of the hotel.
Hotel Ifigeneia – Skiathos town
Situated just a few meters from the marina of Skiathos, Ifigeneia Hotel offers rooms with a view to the hotel's pool and sea views. The hotel's rooms are bright, air-conditioned and have TV, and the hotel's outdoor pool area offers sun loungers at the hotel's pool bar. The center of Chora is a 5-minute walk from the hotel.
See here availability and rates of Hotel Ifigeneia.
Mouria Hotel – Skiathos town
Mouria Hotel offers rooms near the harbor with air conditioning, TV, rooms with a garden view and possibility to rent a bicycle and car. The airport is 2km away from the hotel and there is also a restaurant on site.
See here availability and rates.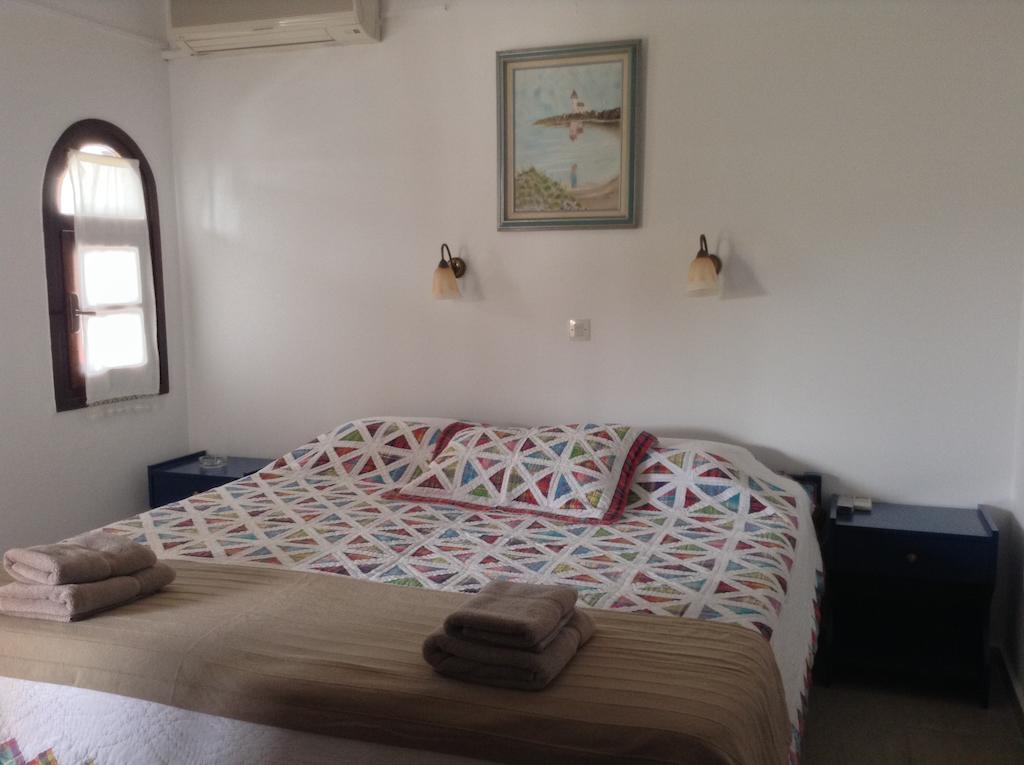 Dabasi Hotel
Dabasi Hotel offers simple and bright rooms with kitchenette, TV, air conditioning, wifi and more.
Book now at Dabasi hotel
Hotel Rene
Hotel Rene is beautifully situated and offers comfortable and bright rooms overlooking the sea and the hotel's outdoor pool. The location on top of a hillside is special and offers very nice views. Free parking, breakfast area, wifi, TV, etc. are available on site. Chora is about 10 minutes' walk away.
Check availability of the hotel here
Hotel Rene – Skiathos Town
Hotel Villa Orsa
Hotel Villa Orsa offers rooms with garden or sea views and beautiful decoration in Skiathos Town. The rooms have a TV, hairdryer, toiletries, bicycle rental and more.
See here availability and hotel rates
Hotel Villa Orsa
Hotel Akti
At Hotel Akti you have the sea on your feet with the balcony on the hotel's rooms. The rooms of the hotel overlook either the sea or Chora and have a TV, fridge, hairdryer, wifi and more.
See here availability and hotel rates
Hotel Akti – Skiathos
Aretousa Hotel
The Aretousa hotel is located in Skiathos Town as well as the previously mentioned and offers well-priced rooms with air conditioning, satellite TV, etc. just 2-3 minutes from the center of Chora.
See here availability and hotel rates