The beautiful and captivating Mount Pelion, with its exquisite environment and its mystic atmosphere, the mountain of twenty four villages, tens of settlements and profuse vegetation, has plenty of sights as well as a significant history. Traditions, legends, enchanting myths and historic battles have taken place in the area of Pelion, legendary creatures, warriors and mythical heroes have walked on or lived in it. It is a place famous not only for its many natural beauties but also for its long tradition in literature and arts ever since the Ottoman period. Pelion is beautiful at any time of year and is ideal for both winter and summer vacations, with a large number of businesses that provide even the most demanding guest with hospitality, tasty traditional food and all modern comforts. With its lovely stone houses coming out of the lush vegetation, its wonderful mansions, the churches, the springs, the stone bridges, the delightful routes and the variety of cultural and sports activities during the summer months, it is a real gem that offers opportunities for relaxation and entertainment, sharing generously its fruits and hospitality.
Tens of dent elated beaches of all sizes, golden coasts and natural bays form the marine nature of Pelion, which tourists prefer for their summer excursions. Some beaches are more crowded and organized thus offering plenty of choices whereas others are more secluded and are therefore indicated for a carefree and relaxing swim. Pelion can impress any visitor not only with the beauty of its picturesque villages, its infinite vegetation and its unique architecture but with its rich history in the fields of art and literature as well. Some of the most important schools and libraries, renowned throughout Greece and abroad, were founded in the Mountain of Centaurs. Prominent artists and folk painters were born there, acted there and benefited its villages. Nowadays, Pelion preserves its traditional character, trying at the same time to keep up with the newest trends. It is one of the most favorite travelling destinations of both Greek and foreign visitors, while a lot of its villages have come to know a notable tourist growth. Its residents, feeling proud of their history and culture, are willing to welcome their visitors cordially and engage in showing them round their fruitful land..
Villages | Eastern Pelion (Click for more info)

Hotels in Pelion
You will find many hotels at all villages of eastern Pelion. The map below will help you!


Find out more
– Zagora
Public library of Zagora
The public library is located on the central square of Zagora. The library hosts almost 25.000 books and 150 manuscripts. Founder of the library is Ioannis Prigos who was leaving abroad and he used to books for the students of the village. In the building there is also a reading room, a room with PC's for public use and a hall for various events. Tel +30 24260 22591 www.library-zagora.gr
School Rigas fereos Greekmuseum
The school of Rigas Fereos is the oldest school on mount Pelion, it was founded in the 18th century. It is a stone building with the clasical Pelion architecture. Inside you can see old maps of the 16th and 18th century, manuscripts and other various documents from this era. Besides Rigas Fereos other important characters attended this school such as Anthimos Gazis and Grigorios Konstantas. The school is located at the area of the church of Saint Ioannis Prodromos.
Holy church of Saint Kiriaki
It was build in 1740, it's architecture is called trikliti royal and base building materials are stones and plates. One of the main features is the bell tower located at the entrance of the church. It is one of the most important religious monuments of Zagora and is located in the central square. Inside stands the wooden temple that was built in 1744.
Heading from Zagora to Pouri village you will have the opportunity to see the largest waterfall in Pelion, with over 100 meters high in Megalovrachos area.
Tsagarada
Nanopoulio School
Founder and benefactor was Nikolaos Nanopoulos, located in the district of Agia Paraskevi, it was built in the year 1909 it was a High School that specialized in Economics, now houses the village's primary school.
Digital Museum & Miniature Museum
Along with Nanopoulio School is located and the Digital Museum Quarter Paraskevi in ​​building Achilopouleiou Commercial School. Inside you will see exhibits of the area projected in a digital three-dimensional miniature. If you want to visit first you must book a visit, call at +30 24260 48855
The Platanos tree at Tsagarada's centra square is 1000 years old with a circumference of 14 meters, there is also the another 800 years old Sycamore with 17.5 perimeter in the district of Holy Archangels.
Another sight in Tsagarada is the stone arch bridge built in 1787 in the river Mylopotamos between the villages of Tsagarada and Xourihti.
The castle of Damouchari
Located between Damouchari's harbor and Damouchari beach. Today you can only see only small parts of the defensive walls and nearby are also the ruins of the Turkish customs.
Where to swim at easterm Pelion
Crystal clear water awaits you at the beaches of eastern Pelion. 5 must visit beaches of eastern Pelion are: Agios Ioannis, Agioi Saranta, Fakistra, Papa Nero and Parisaina. Read also our article with all beaches of eastern Pelion: Eastern Pelion beaches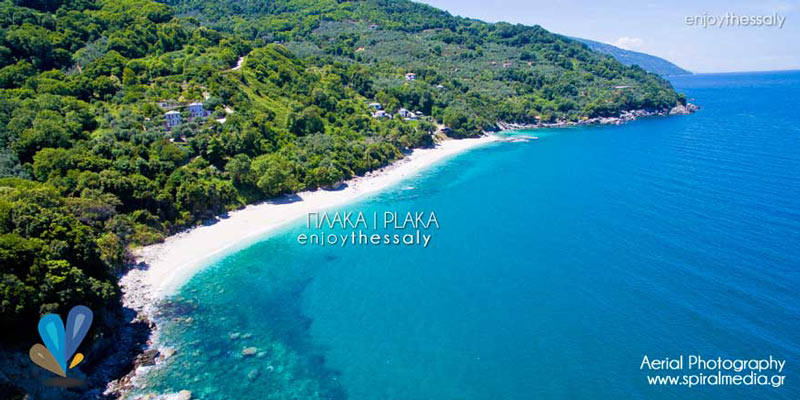 Where to eat 
You will find traditional taverns across the villages of eastern Pelion. Seaside taverns are located in Horefto, Agios Ioannis and Damouchari. Especially the taverns of Damouchari are famous because they are located at the small port of Damouchari. Also taverns are located in all villages of eastern Pelion such as Zagora, Tsagarada, Mouresi and Kissos.
Activities
In summer, Pelion awaits for its visitors literally bathed in sunlight and ready to make their holidays unforgettable. You can enjoy the crystal-clear waters of the Blue Flag beaches, go to local festivals, concerts, artistic exhibitions, cultural events etc. If you are fans of alternative tourism, you can walk through the paths of Pelion, ride a mountain bike, go horse-riding, whitewater canoeing, canyoning or diving to admire and explore the secrets of the underwater world of Pelion. You can also tour the countless churches and country churches that are hidden even in the most unlikely spots.
Canyoning in the gorges of Mylopotamos, Fakistra and many other such as Kalokairino, Megalo Galanorema and Damouchari.
Hiking trails in a verdant beauty infinite paths.
Scuba Diving in the Aegean Sea. The seabed of eastern Pelion is waiting you. Diving sights such as reef "Lefteris", shipwreck "Vera" and "Volos"
Rock Climbing in climbing Mylopotamos, Platanias and Pau.
Horse – Riding, an opportunity to see Tsagarada from a different view.
Sea Kayaking, from the port of Damouchari.
Events and festival in eastern Pelions' villages
May 6 – Celebration of St. John the Theologian in Agios Dimitrios
17 July Ivy – Celebration of Agia Marina
July 20 – Mouresi Celebration of the Prophet Elijah.
July 27 Celebration of St. Panteleimon in Mouresi.
5 August – Celebration of the Savior Metaorfosis Agios Dimitrios
August 25 – Flower Exhibition in Makryrachi by horticultural cooperative Makrirachi women
August 27 – Celebration of Saint Fanourios in Mouresi.
September 2 – Celebration of St. Eustatius Kissos.
September – Apple Festival in Zagora.
How to get there
From the city of Volos and for eastern Pelion you head to Portaria and Chania and later descend to the beaches of eastern Pelion. The distances to the beaches of eastern Pelion are long, you will need about an hour to reach by car, the gas stations are few so it is good to have your tank full. The turns on the road are many but the scenery is beautiful and will compensate you. You can also reach it from the south if you head to Neochori and Tsagarada. Finally, from the city of Volos there are itineraries with the KTEL, for itinerary information at 0030 24210 33253, 0030 24210 33254 and 0030 24210 25527.