Where to swim at easterm Pelion beaches with views to the Aegean Sea. 
Beaches near Agios Ioannis
Agios Ioannis – The biggest touristic resort of Pelion, including a great beach with crystal clear waters, taverns and beautiful hotels. Organized beach.
Plaka – follow the path from the port of Agios Ioannis and then you find yourself at Plaka an non-organized sandy beach. Visitors who choose Plaka beach enjoy the clear waters and the small pebbles.
Papa Nero – Next to Agios Ioannis camping there is a wonderful beach with small pebbles. It is ideal for families with children. According to the local legends, it was named either after a priest that was drawn there, or after the homonymous spring that can be found in the location of Trypia Petra. Papa Nero is an organized sandy beach with beach bars providing sunbeds.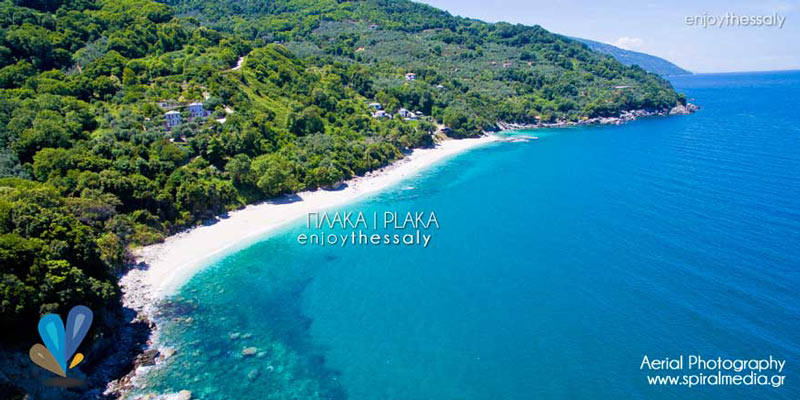 Beaches near Zagora
Horefto – sandy beach, with many options for accommodation and food. At the southern side of Horefto beach there is a small port and a camping space as well while at the northen side you can go to Parisaina..
Parisaina – non-organized sandy beach next to Horefto. Follow the path at the end of the road of Horefto and you then you will see Parisaina.
Ovryos – Beautiful sandy beach with blue waters and easily accessible from Pouri village.
Elitsa and Analipsi – two beaches with pebbles, separated by a crick during whole year. Non-organized beaches.
Agioi Saranta – A great sandy organized beach that can be reached by Horefto or Makrirachi. Agioi Saranta beach is one of the most beautiful beaches of Pelion. You can find traditional guesthouses and taverns. A must visit beach of eastern Pelion. If you decide to visit Agioi Saranta beach at the weekends please note that there is not enough space to park your car.
Beaches near Tsagarada
Fakistra – Sandy beach non-organized beach, that can be reached by Tsagarada. One of the must-visit.
Mylopotamos – One of the best and most photographed beaches of Pelion, a great choice for many visitors. The natural beauty of Milopotamos takes our breath away, while the flora, the blue waters, the white pebbles and the sand compose a great landscape, separated by a rock, that can be crossed through a hole! Milopotamos beach is a must-visit!
Damouchari – one of the beaches that "Mama Mia" filmed! Non-organized pebble beach with crystal clear waters and traditional taverns at the peaceful settlement of Damouchari. Damouchari is also close to the Agios Ioannis beach.
Lampinou – small non organized beach with pebbles and sand with a small tavern located above the beach. It is located north of Kalamaki beach.
Kalamaki (Propan) – A special beach with large pebbles rarely found on a beach. These stone stones are located on the beach due to the nearby mining stone that produces pelion's stone. The beach is a non-organized beach with large pebbles inside and out of the sea. Kalamaki is mainly preferred by local people (nearby village Kalamaki and a little further Neochori). Above the beach there is a tavern for food and coffee.
Limnionas – A nice small beach, at Ksourihti village.
Mpanikas – A small beach with big pebbles. Close to Anilio village.
The beautiful beaches of Kamari and Ai Giannis at north Pelion near village Keramidi. Also, the small and isolated beach of Petromelliso near Veneto.