Calypso Canyon – Kokkino Nero
Canyon "Calypso" is an amazing gorge, one of the most beautiful in Greece, with deep clear lakes on the eastern slopes of Mount Kissavos overlooking the Aegean Sea. Located just above the village of Kokkino Nero on the coast of the prefecture of Larissa with easy access.
The first part of the gorge has 6 rapel and the largest reaches up to 60 meters. Three waterfalls at the end of the gorge are reaching the height of about 70 meters. "Kolimpithra" area is at the end of the waterfall where visitors can stay and enjoy the thermal waters. The path to the gorge is beautiful through the verdant signed paths leads us to the base of the waterfall. Larissa – Kokkino Nero at about 1 hour drive.
Nearby hotels: Kokkino Nero, Karitsa, Stomio
Nearby beaches: Stomio, Platia Ammos, Kokkino Nero, Tsiligiorgos, Pigadi.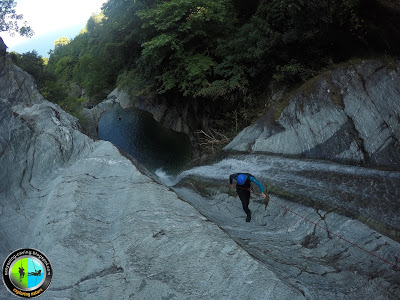 Canyon Calipso
Kakoskala Koutsoupias
Neighboring gorge with Calypso, at the eastern outskirts of Kissavos. It is located above the village of Koutsoupia and has water all year long, although the most suitable time to cross it is in spring. In the 4 hours that we need about it, we will encounter eight descent, with the two at 25 meters forming beautiful waterfalls. Several vegetation and boulders, mainly towards the end of the gorge. It is a canyon with beautiful pictures and waterfalls, but with great traveling on dirt roads however.
Nearby beaches: Koutsoupia, Paliourias.
double waterfall of 20 meters
Rakopotamos
It is located in Mavrovouni forest with waterfalls and lakes within lush vegetation with a total of 10 rapel. The route ends at the beach Rakopotamos one of the most beautiful beaches of the prefecture of Larissa which is choosed by many young people to swim.  Read our article about all beaches of Larissa. Options for accommodation in rooms and food at the coastline Agiokampos-Velika-Sotiritsa. Book now at the hotels in Agiokampos. Larissa Rakopotamos is 1 hour drive. Agiokampos – Rakopotamos: 15minutes by car.
The entrance is at 350 meters altitude. Initially, we run in a ravine, without waterfalls, and swim in large pedestals at intervals. After a while, the morphology of the gorge changes and we walk into a bed of rock. The gorge narrows and follows three beautiful descents. Then there is a gorge-gorge changing and beautiful sea views by signs. At the end it shows great rock crashes. The length of the gorge is 4 km, and there are several walking spots. It has 8 descents with the highest of 25 meters.
Information and text used from canyoning-caving.blogspot.gr under creative commons 3.0 attribution