Skiathos, an island that every summer crowds of tourists fill the hotels and the beaches of the island, enjoying their holidays. Skiathos in recent years has been known for its intense nightlife as it is one of the classical student destinations with students and not only. Skiathos Town which is the main port of the island has easy access from many ports of Greece such as Volos, Thessaloniki, Mantoudi and Agios Konstantinos. Also the distances and the transportation in Skiathos is easy making your tour and your stay easy. Stunning nightlife, beautiful beaches, hotels and rooms to let of all categories, apartments to stay and delicious food complete a successful summer holiday puzzle. So, if you are wondering where to stay, what to eat, what to see, what to do and what to know about Skiathos then read the 10 proposals below to see and do in Skiathos. Also you can download our pocket-size map of Skiathos. It will really help you!
Accommodaton in Skiathos – Hotels and rooms to let in Skiathos – Prices – where to stay
Choosing where to stay in Skiathos is an important factor in holiday budgeting and your program as it plays a part of what type of hotel you will stay in. You have plenty of choices from accommodation in Skiathos of all categories that offer rooms and apartments at good prices. Often you can see offers that make several hotels. So if you want a luxurious and comfortable stay in Skiathos then you will also find 5 star hotels with many amenities or you can see all available villas in Skiathos. Of course you will find also lower-end hotels with a high level of service. Find out also the available rooms to let in Skiathos. See also available hotels in Skiathos Town, hotels in Koukounaries, hotels in Megali Ammos in Skiathos and hotels in Troulos. Generally speaking the choices to stay in Skiathos are enough in various areas of Skiathos with the majority of them are located in Skiathos Town (Chora). Book now easily, quickly and at the best rates.
Rent a car in Skiathos – Rental cars in Skiathos – Ferry tickets to Skiathos
You will find rental cars in Skiathos Town. Rental cars companies offer cars and motorbikes to rent during your holiday in Skiathos island. Book now your rental car in Skiathos here at the best rates. Book now your ferry tickets to Skiathos here
1. Visit the House-Museum of Alexandros Papadiamantis. There is the house-museum of the famous greek writer Alexandros Papadiamantis in Skiathos. This is his last home and where he wrote many short stories, but he did not see anyone being printed. The museum is within walking distance of an eastern harbor, you will see the signs. Inside the museum you will find personal items of Alexandros Papadiamantis, such as his pen, his ink tank etc.
2. Lalaria – Lalaria beach in Skiathos is unique, not unique to Skiathos but all over Greece and abroad. It is a beach with large pebbles, the name of Lalaria, where many excursion boats visit the beach to see and swim in this wonderful beach of unique beauty. Access to Lalarisa only by boat. There are excursion boats at Skiathos's port organazing excursions to Lalaria to the uninhabited island of Tsoukrias as well as the island of Arkos, which is definitely worth going. The beach at Arkos island will definately excite you.
Skiathos – Lalaria beach
3. Bourtzi. Bourtzi is the peninsula that you will see in the port of Skiathos. In Bourtzi in 1207, a small Venetian Castle was built by the widowed Gyzi where today you will find some remnants of the Castle. In Bourtzi you will find many visitors sitting on the benches next to the sea or drinking their drink or coffee. Also in the Cultural Center that is hosted there is the Museum of Naval and Cultural Tradition of Skiathos where it travels us in the two centuries of  the Naval History of the island.
4. Koukounaries, Agistros, Krifi Ammos and many more beaches in Skiathos. Yes, we are referring to the beaches of the island that you will surely be visiting as long as you are on the island. If you want to read about all the beaches of the island read our article beaches in Skiathos. Read also our article about top 6 beaches in Skiathos.
5. Sunset spots in Skiathos. Two places that we can distinguish in Skiathos are the beach of Agia Eleni, an ideal beach to enjoy with your beloved romantic moments with intense colors next to the sea. If you are in Chora at that time then go to the church of Saint Nicholas. To find yourself in the church walking through narrow streets and stairs, you see houses with courtyards and when you get up you have a view of the whole island to see the sunset. These are the most beautiful routes in Skiathos.
Skiathos Koukounaries beach | Flickr Creative Commons
Skiathos Town – Image Artur Malinowski Flickr CC Attribution 2.0 Generic
6. Banana Beach. Banana beach is known for the lively life since most young people visiting Skiathos have definitely visited Banana.  Banana is the classical student destination to visit the beavh bars and dance. If you are a nudist fan then there is the beach of Mikri Banana, where you can find an official nudist beach.
7. If you want to get a taste of the churches in Skiathos, then two of those that you should visit is Evangelistria Monastery and the Kechia monastery with its characteristic red dome.
8. Visit the Castle. Four churches, terraces with firecrackers, the gate and some of the wall, a cannon and a half-broken mosque are preserved on the site that used to be today. You can visit it by car / motorbike but if you have the appetite and the stamina you can go and walk, since it is a nice hiking trail. The most famous route, with a distance of 6 km, is the one that has the beginning of the Monastery of Evangelistria towards Kastro, ideal for its birdwatching friends in the Castle area.
9. Food with a view? Then visit the Windmill Restaurant in Chora combining delicious food with panoramic views. If you want other choices you will find various restaurants with Greek and Mediterranean cuisine in beautiful locations in Skiathos Town ( Chora ).
10. Planespotting – Skiathos has one of the few airports that the airport is next to a road and this results in a number of visitors waiting for the flights coming and located a few meters from each aircraft approaching Skiathos for landing. Many visitors are also sitting behind the fence when the plane is getting ready for takeoff to feel the power of the air coming out of the aircraft's engines. Skiathos Airport is also known by many as the Saint Marteen of Greece. Note that if you think of planespotting you should be protected from the strong air as it is a dangerous activity if you do not notice.
To see and do all of this in Skiathos first you have to book your tickets. Book now ferry tickets to Skiathos or search for flights to Skiathos.
Skiathos town – Image Artur Malinowski Flickr CC Attribution 2.0 Generic
Skiathos Banana beach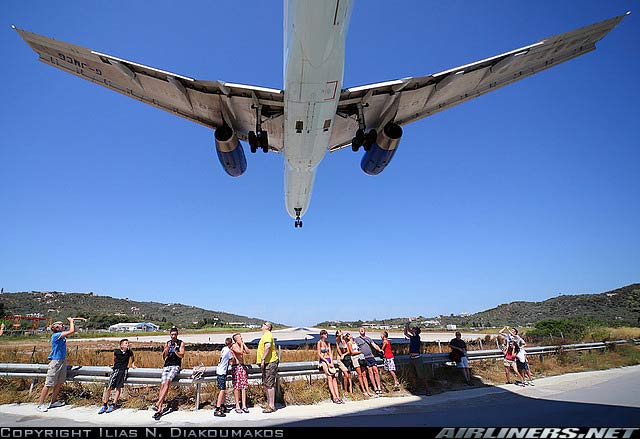 Skiathos – planespotting copyright Ilias Diakoumakos