Alonissos, is the quietest of the islands of Northern Sporades where you will find hotels, beaches with crystal clear waters and a beautiful old town that is one of the few old towns in the greek islands with such great beauty. Alonissos, the third and most remote of the Northern Sporades was known in ancient times as Ikos. It was famous and celebrated throughout the known world for it's fine wine. Alonissos and Alonissos Old Town are an ideal destination with many points of interest, combining good hotel facilities in Patitiri or Old Town (Chora) or other parts of the island, delicious food to eat, relaxed quality nightlife and natural landscape as green as on a few islands. So if you have decided to spend your holidays in Alonissos and wonder what to do, what to see and where to stay then read the 10 things that we recommend to do and see in Alonissos. Of course before you read the article the pocket-size map of enjoythessaly will help you. Download it from here.
Accommodation in Alonissos – Hotels, rooms to let and apartments in Patitiri and Old Town – Ferry tickets
It is very important where you will decide to stay so you can search what is near you and what transportation you can use (taxi, bus, rent a car). You will find many hotels of all categories and rooms to let in Patitiri, Old Town (Hora), Votsi, Rousoum Gialos etc. See all available hotels in Patitiri, hotels in Votsi. The prices you will find in hotels and rooms to let are low and generally Alonissos is a cheap Alonissos. If you want a more luxurious and comfortable stay with plenty of amenities then we have to inform you that you will find 4 and 5 star hotels in Alonissos. You will also find a campsite near Patitiri. Check also here the ferry routes from various ports to Alonissos. Book now in a few steps your ferry tickets to Alonissos.
Rent a car in Alonissos – Transportation in Alonissos – Prices
As in all the islands, so in Alonissos you will find car rental offices in case you do not have your own car / motorbike. Check out the availability of rental cars in Alonissos at the best rates! Book now your rental car in Alonissos
1) Visit the Museum in Alonissos, located at the port of the island (Patitiri). It is a private museum with 4 themes on each floor of the building. The items in the pirate section of the museum are impressive. See more in our article on the museum in Alonissos.
2) Beaches, many pebble beaches can be found in Alonissos. Almost all beaches in Alonissos are pebbled, except for Chrissi Milia beach. Must visit beaches in Alonissos are Gialia, Kokkinokastro, Milia and Leftos Gialos. Read also our article of top 5 beaches in Alonissos.
3) Visit the Old Town (Hora). Hora in Alonissos is one of the most beautiful Old Towns of Greece. You have so much to see but also to tour its narrow streets and within the castle with many places of interest, churches, benches to stop and look at the view and take many pictures.
4) If you are wondering what to eat in Alonissos and if you want to eat seafood in Alonissos, two very good destinations are Kalamakia and Steni Vala. Both of the are located at the northern part of Alonissos, see the map above to see exactly where they are. Beautiful destinations with both easy access and taverns with delicious food by the sea.
5) Sunset spot in Alonissos; Then you will go back to Chora, beautiful colors, beautiful view to spend with your beloved. In the evening you can also combine it by staying in Chora for food. You will find several taverns either at the entrance of Chora at the bus stop, or uphill the main alley and before entering the Castle.
6) If you want a deeper exploration, then try diving in the rich seabed of Alonissos. The deep crystal waters that bite from marine life among them 300 species of fish, dolphins and corals such as pink coral make Alonissos an ideal destination for diving. Generally in the area have been found to date 8 ancient and medieval shipwrecks and over 30 modern ones. Read more in our article diving in Alonissos. If you do not like scuba diving then go hiking, there are many hiking trails and paths and in much of the island, you will be helped by the many signs you will find in various places. Read our article on the trekking routes in Alonissos.
7) As in other islands, so in Alonissos you will find boats that organize sea trips mainly to the Alonissos National Marine Park (The largest in Europe) as well as to other destinations such as northern part of Alonnisos etc. You will find boats for more information at the port of Alonissos, Patitiri.
8) Nightlife in Alonissos? Then visit the Old Town (Hora). Walk into the central pedestrian road to Old Town from where the bus leaves you and at the end of it between the church of Christ and the church of Saint Athanasios ypu will find cafe-bars with tables out on the square that offer your drink in a beautiful place. You will find them full of visitors every night.
9) Driving through Alonissos. If you have your own car and want to make a long journey, try to go to Gerakas, which is in the northern part of Alonissos. The road from Old Town to Gerakas is about 35 minutes long. It is a relatively comfortable route but what makes it special is that you see the wild landscape of Alonissos in combination with the island of Peristera, which is constantly on your right over much of the route. On the way to Gerakas you will find many signs of hiking trails with the most famous of them being to Kastanorema. The gorge begins from a location called Kastania as a small narrow river bed, but soon turns into a snaking canyon that carries the landscape deep between steep cliffs and rocks.
10) For more alternative activities, if you have more days to go, you can visit Kyra Panagia island located to the north of Alonissos, Peristera island opposite of Alonnisos and within Alonissos, the beach of Vithisma which is a nude beach of Alonissos.
Of course before you do all of this you should have closed your ferry tickets for the beautiful Alonissos. Book now online your tickets to Alonissos fast and easy and click on the link below Ferry tickets to Alonissos.
Milia beach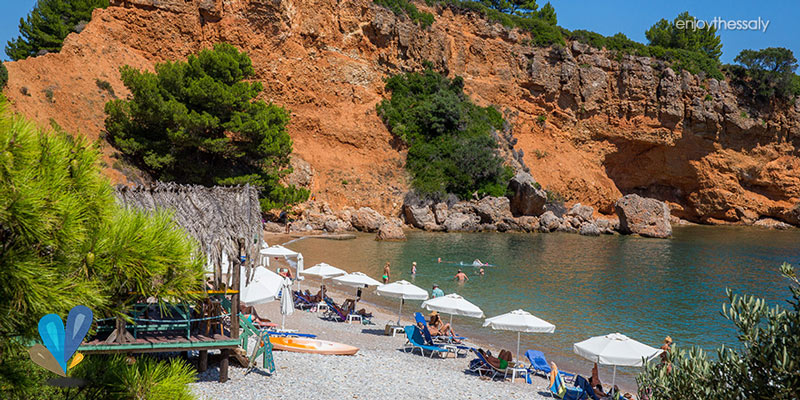 Alonissos – Kokkinokastro beach