The peaceful side of Pelion, southern Pelion, has many beauties. Beautiful beaches in the waters of the Aegean Sea and Pagasitikos gulf, major attractions, wild beauty, accommodation and hotels for comfortable accommodation at affordable prices and delicious food in the taverns located in villages and settlements. The eastern Pelion and its famous destinations are more audible, but if you visit the southern side of Pelion, it will surely amaze you and you will visit it again. If you are wondering what to see, what to do, where to go and what to eat the "corners" of southern Pelion are waiting you. Southern Pelion is there and you can visit the beauties of southern Pelion during summer and winter months.
1) Trikeri. A village almost at the top of the mountain and view to Evia and Pagasitikos! The trademark of southern Pelion, Trikeri, is a village of captains, since you will find many naval mansions. The throne of Napoleon is located inside the church of the Holy Trinity. It is worthwhile to see both the Maritime Museum and the island of Palaio Trikeri, which is the only inhabited island of Pagasitikos gulf. If you plan to go to Palaio Trikeri you have to take the boat from Halogoporos.
2) Crayfish spaghetti! You have to try the locally Crayfish spaghetti in two classic destinations of southern Pelion, which is either Agia Kyriaki or Kottes settlement! And at both destinations you eat fresh fish next to the sea. See more about our crayfish spaghetti.
3) Lafkos. Lafkos is located after Argalasti at altitude overlooking Milina! What to see in Lafkos in southern Pelion: It is definitely worth a visit to the Radio Museum as well as to the café at Lafkos Square where you will find the oldest open cafe in Greece operating since 1785. In this cafe, A. Papadiamantis was also in the cafe and still keeps the old and traditional of its character. Check out the available hotels in Lafkos.
4) Milina! Sunset spot of Pagasitikos and Pelion in general. Milina gathers many visitors in the summer and there are many café-bars, tavernas, hotels and camping facilities in the area. If you visit Milina it is definitely worth seeing the sunset from there. Also worth a walk on the island across from Alata. Opposite of Milina there are two small islands, Alatas and Prasoudas. In Alata there is the beautiful monastery of Saints, while in Prasuda the Byzantine monastery of Zoodochos Pigi.
5)  Tzasteni. One of the most photographed spots of southern Pelion, since when you see it, it pulls you to stop your vehicle and go down to see this picturesque creek and the colors it creates. Also, many visitors who have a boat choose to hang in this small bay and enjoy their diving in the waters of Tzasteni
6) Beaches. Many beaches, organized and non-organized beaches. Many of them with easy access and more isolated with more difficult access. We definitely choose to visit Potistika and the hidden beach of Melani and Mourtia. You can also visit Mikro beach which is located at the southeast Pelion on the Aegean side. Mikro is a charming beach ideal for relaxing with clear turquoise waters and fine gold sand with tiny pebbles. This beautiful scenery is completed with the various rocks around and inside the sea.
7) Activities and dives. Diving in the waters of Pagasitikos. The seabed of Pagasitikos is rich and its waters hide many beauties among these impressive wrecks. Some places where you can dive through organized diving centers are Milina, Horto, Alatas and Agia Kyriaki.
8) Hiking. In addition to the routes of the eastern Pelion, you will also find trails in enchanting trails. There are two of them, the first one starting from Lafkos and ending at Milina, 7 km long, starting from Trikeri and ending at Halogogoro 9 km long.
9) Katigiorgis – Platanias, fresh fish to eat and boats that go to Skiathos at just 20 minutes. Platanias is one of the most beautiful natural bays in South Pelion with a lovely beach and a footpath to Mikro a true gem of a beach. Where families and children spend endless hours having fun.
10) A very important sight in Horto is the folklore museum Aggelini, which has exhibits of folk art and other important artifacts. A visit will reward you as you will discover items that will bring you representations of the every day life and tradition of the people of Pelion. Nearby in Argalasti you can also see the church of the Holy Apostles (1886) with the marble neoclassical bell tower 45 meters (1914).
Lafkos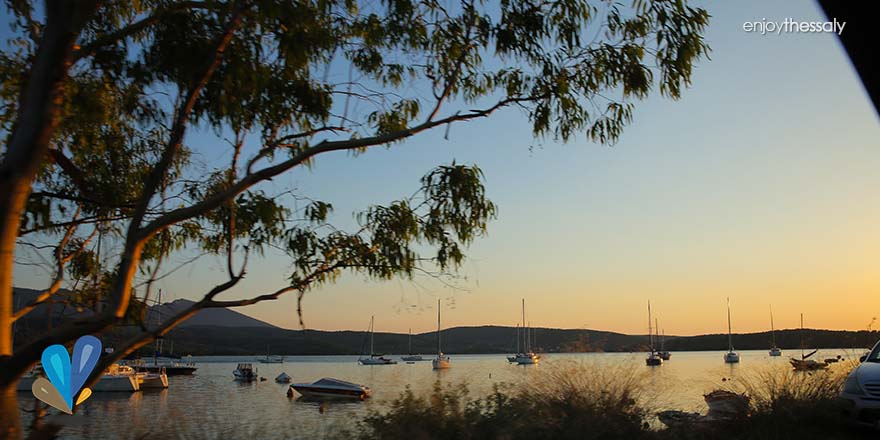 Milina