Pelion, a destination for all seasons. Portaria and Makrinitsa, two villages with hotels, hostels, restored mansions, taverns with delicious food, cobbled paths in the nature of Pelion that are a breath away from Volos since their distance is very small. Pelion and the villages of western Pelion such as Portaria, Makrinitsa, Anakassia, Chania etc. are there to welcome you all year round. So if you wondered what I will see, where I will stay, what I will eat we suggest you a few choices if you are thinking of visiting Portaria, Makrinitsa and the surrounding villages.
Hotels in Portaria and Makrinitsa – Accommodation in Pelion – Prices
Your stay in these villages will be enchanting, as in Portaria and Makrinitsa the hotels you find are very high. Restored mansions and towers have been transformed into hotels and guesthouses with special décor that will make your stay in them enchanting and at good prices. The hotels you will find in these villages belong to all categories from simple rooms to 5-star hotels with all the modern comforts and built in idyllic locations. See all available hotels in Portaria here. See all available hotels in Makrinitsa here.
Rent a car in Pelion – Transportation in Volos – Portaria – Makrinitsa – Prices
You will find rent a car companies at the center of Volos. You can take a rental car and head to Portaria, Makrinitsa, Hania and various destination of Pelion. Book now your rental car from Volos here
Below we present you 10 things to do in Portaria, Makrinitsa and nearby villages of western Pelion.
1) Makrinitsa (or Makrynitsa) is one of the most popular destinations in Pelion. A stop in the village square is required to enjoy the view to Volos, but also to enjoy your coffee or your food under the age-old platinum of the square. On the central square you will also see the marble fountain with " Immortal Water ", four bronze litho heads that render water with many stone reliefs.
2) Kritsa, a name associated with Portaria. It is located in the central square of Portaria with its shady plane trees and offers for years, authentic traditional food with a variety of cooked meals, grilled meats, pies with traditional leaf, pasta etc. Still, Greek cooking classes are organized in small groups of tourists. The Kritsa Hotel also boasts beautifully decorated and carefully decorated rooms.
3) Aeriko – a beautiful café located at the road between Portaria and Makrinitsa. At the weekends, many observers choose Aeriko since the view to Volos and Pagasitikos gulf is magical.
4) Skiing, one of the most popular activities in Pelion is skiing. In winter, if you find yourself in the villages of western Pelion, there is a great opportunity to ski in the ski center that has lots of slopes, chalets, equipment hire and hotel to stay at its base! The Agriolefkes Ski Center is located just 2 km from Hania Pelion, which is a settlement with hotels and taverns. In winter, many choose Hania for their stay as they are near the ski center and the villages of eastern Pelion and the villages of western Pelion.
5) The Museum of Folk Art and History is housed in the Topali mansion and is located in Makrinitsa. Topalis Mansion is a three-storey mansion and is just below the main square of Makrinitsa. Inside, you will find over 1500 exhibits such as local costumes, household utensils, jewelery, tools, photos and more. The museum is located next to the Metamorphosis church and is open on weekends from 11am to 2:30 pm with entrance 2 euros. Tel. 0030 2428099505.
6) Hiking – trails to and from Portaria and Makrinitsa. Cobbled paths that are crossed by many visitors from Greece and abroad since Pelion is known for its huge network of trails. Apart from the tour you can take to the cobbled streets in Portaria and Makrinitsa you will find other routes like Ag. Onoufrios – Makrinitsa, Drakia-Hania, Hania – Portaria, Portaria – Drakia, Makrinitsa-Pouri (16km), Makrinitsa – Koukourava – Ano Volos, Hania – Kissos, Hania – Aghios Ioannis etc
7) Visit the museum of Theophilos located in Anakasia. The museum hosts at the Kontou's residence, one of the most important monuments in Pelion. The painting decoration inside the house was begun by the painter Theophilos Hatzimichael in 1912 and is divided into two zones. In the first zone he painted various decorative themes, such as a wide variety of pots of flowers and birds, fountains, wildlife and hunting scenes, and in the second zone there are 14 large paintings with themes taken by the Greek Revolution. Entrance to the museum is free of charge and runs from Monday to Friday.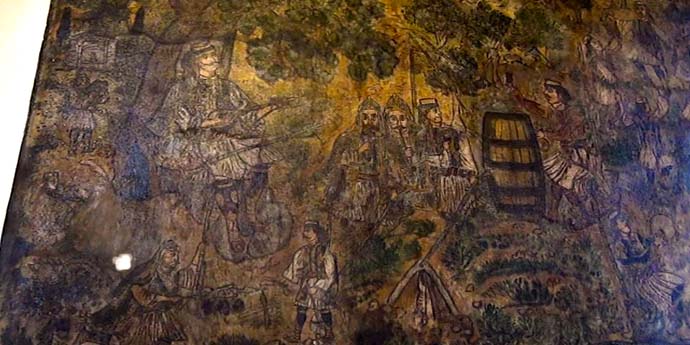 Theofilos's painting inside a cafe at the main square of Makrinitsa
8) Visit the natural waterfall of Karavos. Karavos is a small natural waterfall, where the visitor has the opportunity to see Portaria from above and spend some hours of relaxation in the cafeteria that is there. From Portaria and towards the road to Makrinitsa it is definitely worth a stop any time you pass from Chiosoula square Zioga, a characteristic square for the water that falls from a small altitude and many visitors stop for the necessary photos. Last but not least, a visit to the Manas Pine is a landscaped area with a square between running waters and plane trees.
9) From all over Pelion you can find taverns and restaurants where you can taste delicious local traditional recipes. In Portaria and Makrinitsa you will find taverns and restaurants and you will have to choose among many that offer beautiful food corner. One of the recipes that you should try because Pelion is famous for this is Spetsofae. Try it in some of the taverns and then you can do it and your home, the materials they need are: sausages (which have more goat and less sheepmeat), peppers, potatoes, eggplant, tomato sauce, salt and hot pepper .
10) Drakeia, visit Drakeia if you want to see a village away from the tourist development of the other villages. At Drakia Square you can taste delicious food under the dew of platan, with only the noise of the wind blowing the branches of the plane tree. In Drakeia you will also find traditional houses, fountains, picturesque paved paths with running water and lush vegetation, the Folklore Museum of Agrarian and Cultural Heritage and the Triantafyllou mansion, which has 18th century wall paintings.